Wish to automate and simplify your freight process?
Our solution offers you a way of maintaining and extending your logistical database, whilst automatically using this data to calculate the quotations and manage the transports for you and your customers. It can fully automate your process of calculating costs, booking transports, requesting and storing documents and much more! Furthermore, you can fully adapt this automatic process to your requirements. It can be used for airfreight, ocean freight, trucking, intermodal transports, customs, and more!
As a freight forwarder or expeditor, you want to be able to offer your clients the best possible service.
Managing supply chains and logistics in the current day and age is challenging, but we offer you a solution. Organizing and managing your customers' supply chain activities as efficiently as possible provides you with a competitive advantage.
No shipment is the same and each shipment requires careful planning, management and execution. Using reliable and intelligent software, you'll be able to increase your overall efficiency, generate greater profit margins and save time.
Book demo
Quotations
Calculate quotations in minutes, or fully automatically generate them within seconds. From request to booking in under a minute!
Shipment Manager
A secure, web-based user interface for all your shipments for both your clients and colleagues.
One-stop
One-stop covering all supply chain activities, milestones, events, communication, documents, pricing and billing.
Dashboards
Analytics that help you transform data into insights to improve your shipping operations and sales.
Documents
Keep the documents of your transport close to where you need it, and automatically forward required documents with assignments!
Communication
No long e-mail chains, provide the support your customers need right where they need it.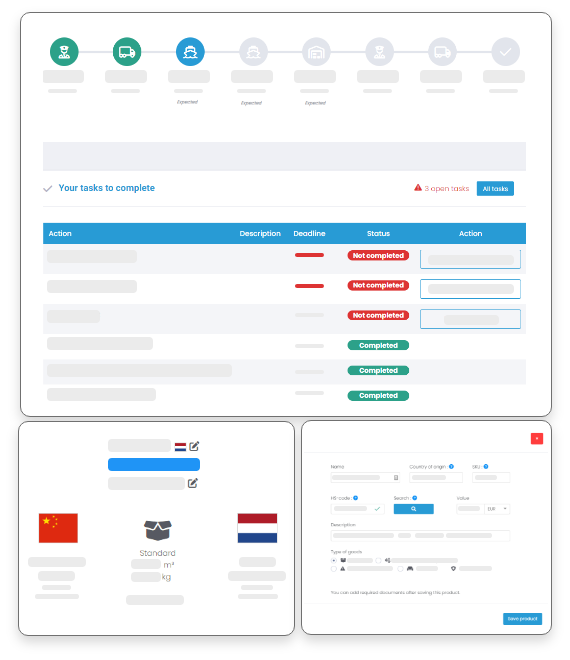 Got a

question?



Talk to an expert.